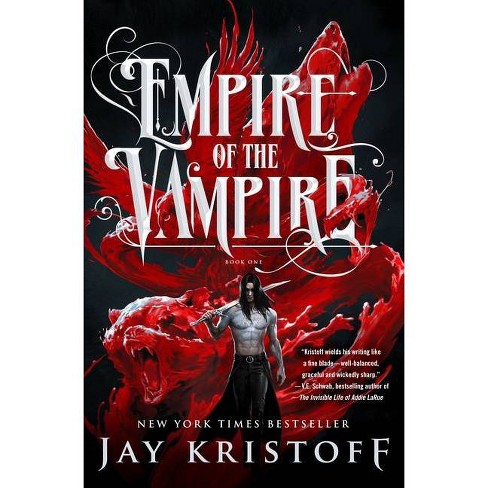 It is almost time for one of my most anticipated releases of the year! Empire of the Vampire is out September 14, and you can bet I have the special edition preordered, so you can imagine my squeals when I saw this 400 page (half the book!) long chapter sampler and the even louder squeals when St. Martin's Press approved me for it on NetGalley. So obviously I read it all as fast as possible. Because after all, this is THE vampire book I have been searching for for YEARS.
Synopsis:
Empire of the Vampire is a bloody, violent, dark vampire story. It follows Gabriel de Leon as he tells his story, from his measly start as a blacksmith's son, to a member of the holy brotherhood called the Silversaints as he tries to keep the coldbloods who run rampant at bay long enough for the people to live their lives unaffected. I'm on page 408, and so far it has the hints of betrayal, loss of faith, and the build-up to the fight against the Forever King all while trying to figure out how de Leon ended up where he is.
My Thoughts:
I have a lot, so buckle up! The first being a super important one, and (in my humble opinion) the most important. Jay Kristoff has a very distinct style. It was evident in the Nevernight trilogy, and it's evident here. Love or hate him, the man knows exactly what he wants to write and makes sure it fits into an aesthetic. I'm confident I could pick out the books he writes alone easily. Which for me, isn't an issue in the slightest! I highly enjoy it, and some of the awkward prose I felt in the Nevernight books was fixed here. I think partially because it's a male POV and it's easier to think that way for him. Some of the offhand comments feel more natural coming from a dude. This book (so far) has 3 timelines, and I think that makes it incredibly effective. Instead of getting bogged down with one part of de Leon's story, it jumps to another section and has intermittent pieces of the current day where de Leon is talking to who he's telling the story to. It's incredibly smart to change up what's being told and keeps the reader from getting too bogged down. Coincidentally that was my problem with The Name of the Wind, but this is making me want to try that one again purely because of how much I loved this.
So far I'm giving this a 5/5, which I do NOT give lightly. It will take something MASSIVE to make me give this anything less than a 4.5. Because this story isn't just a sad mad reliving his glory days for fun, it's bringing vampires back to what we (I?) know and love, a tale of loss of faith, the fragility of belief, and most importantly how to find the hope to keep going when all hope is gone. Also, I have to include I love Phoebe.
Would I recommend?
So the short answer is YES. The long answer is…if you hated the style of Nevernight with the all swearing, blood, gore, intimate scenes, central religion, etc. no. I don't think you'll like it, because these things are also very central to this book. But if you love horror, dark stories, want a fresh take on an old topic, or even want to give Kristoff another try to see how much he's improved since his other books (a lot might I add) then you should definitely give this a try. Because after all, there's no time like today to get into dark stories!
Also, I NEED to know how many books this will be because I can guarantee you I'll be pre-ordering all of them! I also plan to do a review as soon as I finish the rest of the book!
*Thank you to NetGalley and St. Martin's Press for giving me this free chapter sampler in exchange for my honest review*